An unforgettable
ADVENTURE BIKE TOUR
experience that will change your life!
REGISTER now
About us
VUKA!
In the Zulu language, Vuka means to "awake" or to "arise".
That's exactly what we aim to do – awake the inner adventure rider in those wishing to experience an unforgettable on and off-road biking adventure.
Many people have commented to us that commercial bike adventure tours in South Africa are mostly scenic tar roads, without a true rural African experience that can only be experienced on good dirt roads, mountain passes, nature reserves and the like.
After I had been approached for the umpteenth time about organising such a trip, incorporating the best of both (considering that we have personally ridden extensively through rural South Africa), we decided to set up a tour incorporating a true adventure bike experience. We have now put together the "mother" of all trips which will ensure all those wishing to come, an unforgettable experience of the rural dirt roads – added to good scenic tar roads and mountain passes – around the Western Cape (Garden Route) of South Africa.
The entire route is easily done by riders who have had a basic taste of dust and dirt road conditions. However, only one route (Unesco World Heritage site – Baviaanskloof) is a bit challenging. There is, however, an alternative B road route (tar) around for those not wanting, nor able, to experience this, or those who are carrying a pillion. However, Baviaanskloof is on every local adventure biker's "to do before I die" list (ask any local adventure rider!).
Sleeping overnight in caves (with added B&B comforts of course) in the heart of the Karoo, breathtaking views, photos you'll never forget, braais (bbqs); and of course some well-earned beers around the fire – this will be a trip of a lifetime!
We look forward to welcoming you on our next tour and encourage you to make the most of the experience.
Basic Adventure Tour
What we offer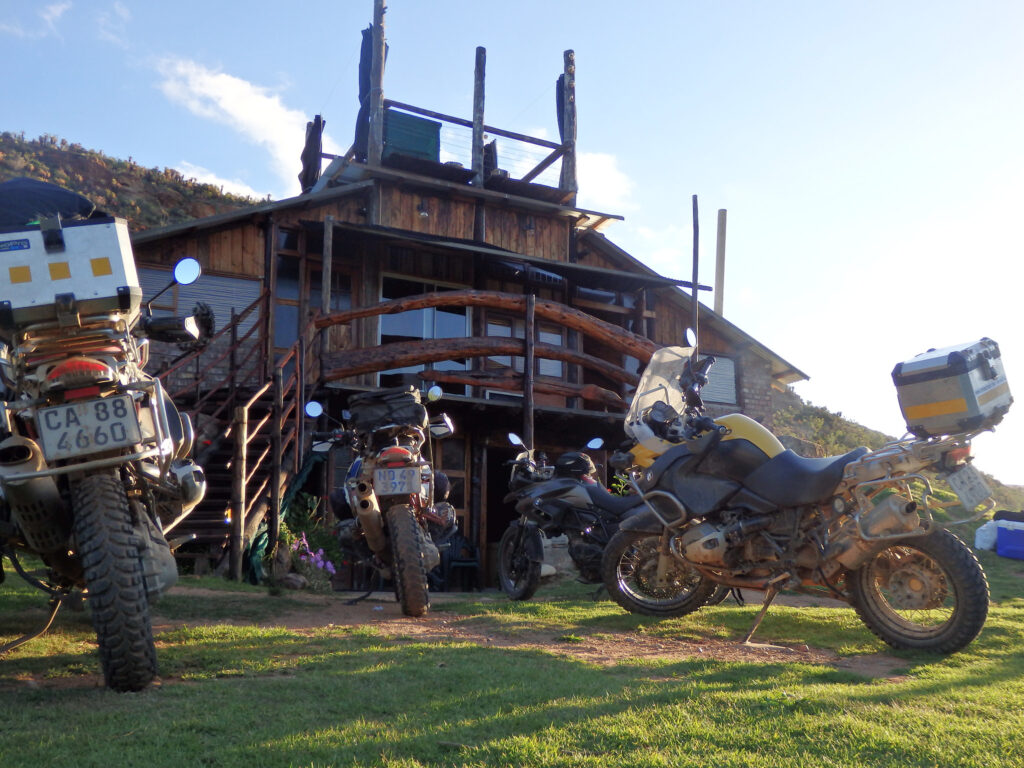 Accommodation
All accommodation for the tour is included, from modern hotel accommodation to rustic bush tent and even caves.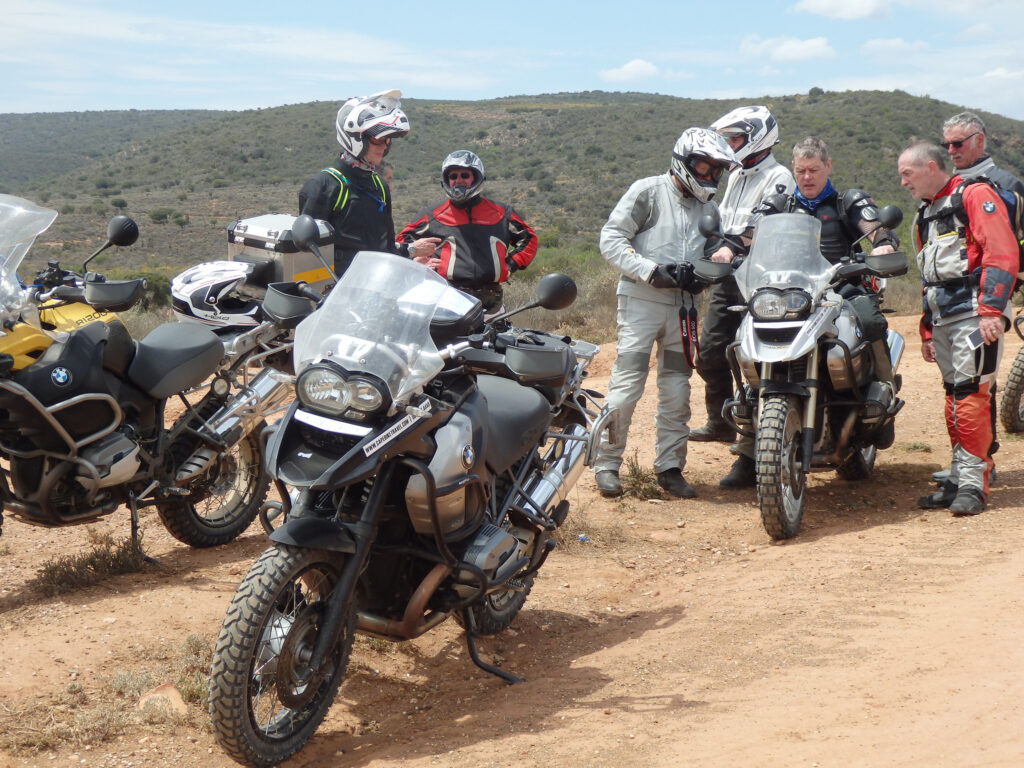 Bike Hire and Fuel
BMW GS Bikes are our pick for these tours and you will have the option to choose from 800 or 1200. Fuel is included.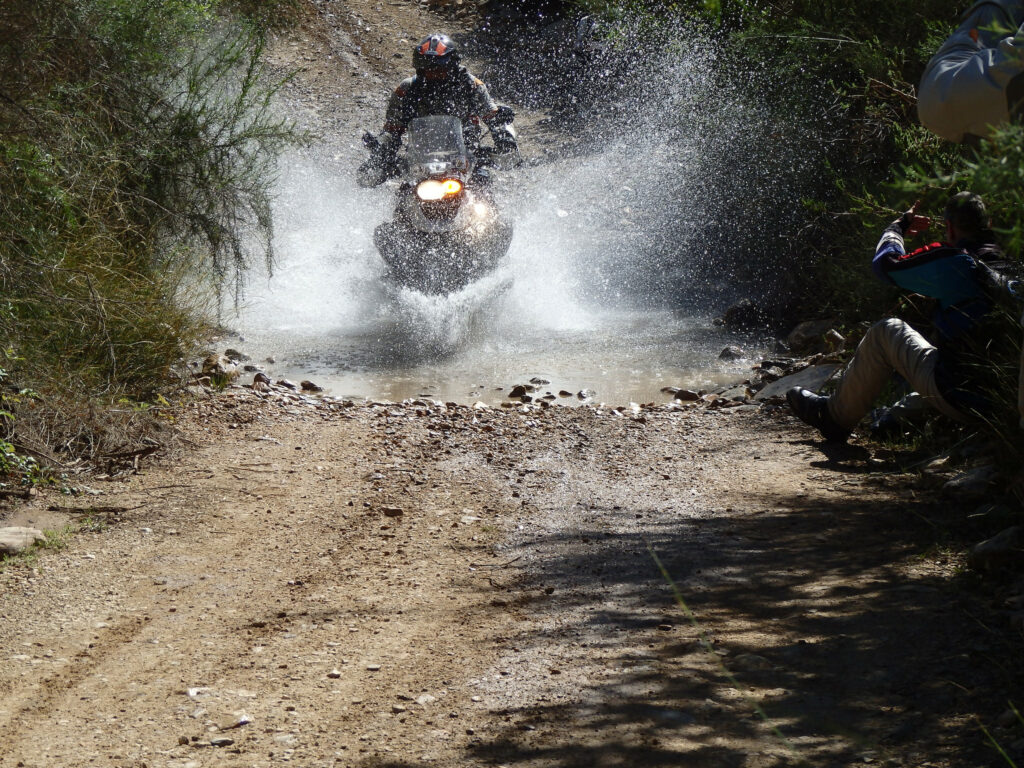 Well Earned Showers
We ride hard and we have fun, adventure doesn't come without getting a bit muddy or dusty.
View OUR BIKE TOUR ITENIRARY
Unlimited ADVENTURE
ONCE IN A LIFETIME EXPERIENCE
This is a bike tour that you won't get just anywhere. The rugged beauty and breathtaking views alone make it worth it. Cruising across the plains and along the mountain passes over gravel and dirt roads, on a machine designed for this type of riding just takes the experience to a whole new level.
REGISTER YOUR INTEREST now
Meet our Team
OUR GUIDES AND SUPPORT CREW
Take a tour
Previous Tour video